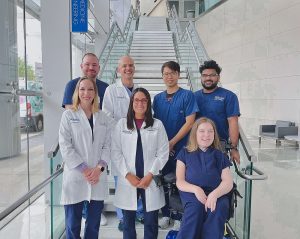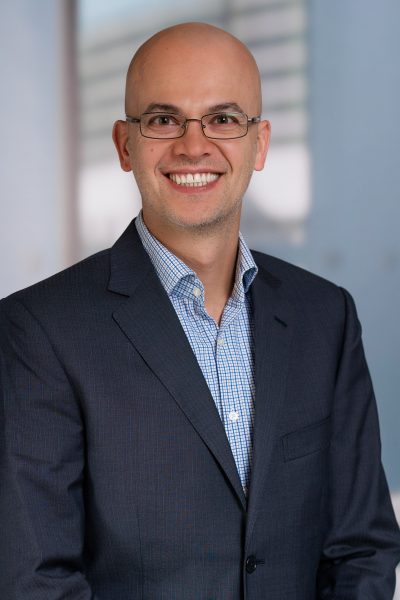 Dimitry Sayenko, MD, PhD, graduated in 1996 from the Russian State Medical University with an MD degree. From 1996 to 2006 he was a researcher at the Institute for Biomedical Problems – the leading Russian research institute specializing in biomedical aspects of manned spaceflight. There he worked with a team of collaborators from NASA, as well as European, Japanese, and Canadian space agencies. In October 2005, he earned a PhD in aerospace medicine, with a thesis on the effect of microgravity on postural control in cosmonauts and astronauts. Sayenko completed his postdoctoral training at the National Rehabilitation Center in Japan (2006-2008), as well as at the Toronto Rehabilitation Institute in Canada (2008-2012). From 2012 to 2014, Sayenko held a faculty appointment at the University of Louisville, and he worked as a research assistant professor in the Frazier Rehab Institute, where he investigated the mechanisms of neuromodulation induced by epidural spinal stimulation. From 2014 to 2018, Sayenko performed research at the University of California-Los Angeles, where he utilized spinal stimulation after spinal cord injury to recover sensorimotor function in the upper and lower limbs, as well as to regain postural control during sitting and standing.
Sayenko's current research focuses on the mechanisms and effects of spinal neuromodulation in the sensorimotor recovery after neurological disorders and injuries, including stroke and spinal cord injury. In his spare time, he enjoys spending time with his family, and cooking any kind of food and sharing it with friends. He also enjoys gardening, hiking and swimming.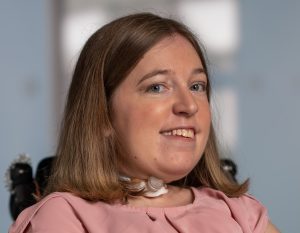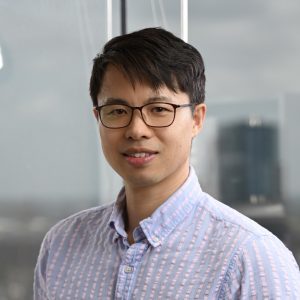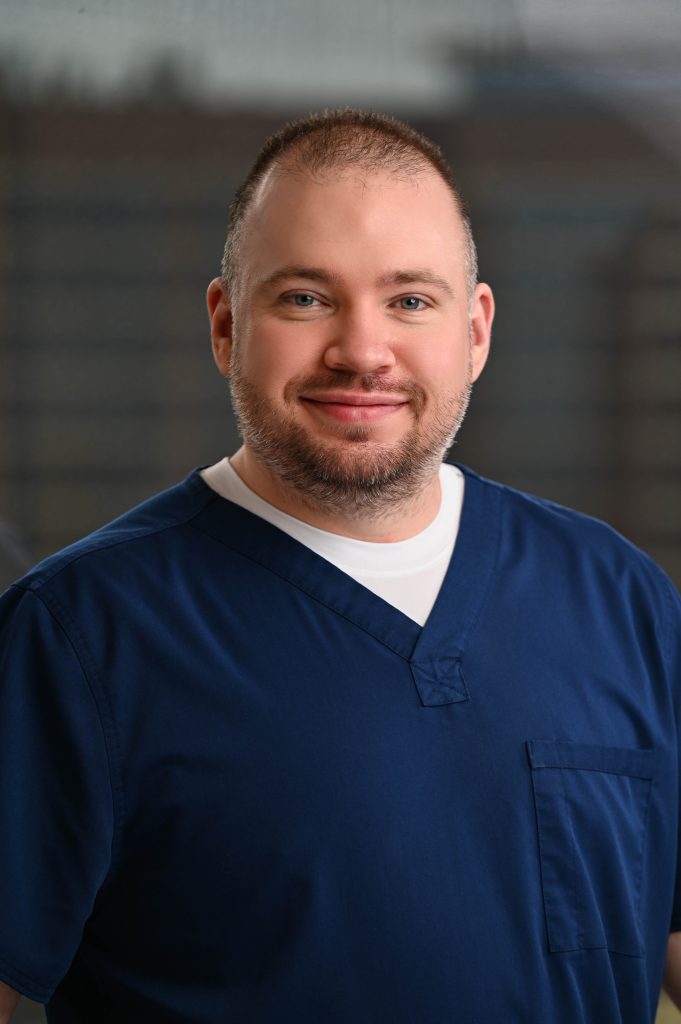 Rachel Markley, MPH, CCRP
Clinical Trials Manager
Rachel Markley graduated in 2013 with a BS in nutrition and community health from The Ohio State University. After graduation, she moved to Texas for the warmer winters. She completed her Master of Public Health in 2015 from the UT Health Science Center at Houston. Rachel joined Houston Methodist in January 2019 as a research coordinator to support the Sayenko lab growing research program. Rachel is currently the Clinical Trials Manager for the Department of Neurosurgery where she leads the coordinator staff and works on building and strengthening the clinical research infrastructure.
Jeonghoon Oh, PhD
Postdoctoral Fellow
Jeonghoon completed his PhD in the Department of Kinesiology at the University of Miami, FL. Previously, his research has focused on gait and postural control in individual with neurological disorders or who have undergone gait impairment using core concepts from biomechanics and motor control. He joins the Dr. Sayenko's Lab with the aim of uncovering the neural mechanisms associated with the functional recovery of upper and lower limb movements after exposure to spinal cord stimulation. In his spare time, he enjoys spending time with his wife, and cooking food (especially Korean) and sharing it with friends. He also enjoys hiking, swimming, and playing tennis.
Alexander Steele
Research Associate
Alexander G. Steele is a PhD candidate in Electrical and Computer Engineering at the University of Houston. He joined the Neuromodulation and Recovery Laboratory at Houston Methodist Research Institute June of 2019 as a research assistant. He currently has a B.S. and M.S. in mechanical engineering and his research involves elucidating the effects of spinal cord injury on spinal signaling and how spinal cord stimulation can aid in restoration of motor function. His interests include prosthetics, solid modeling, control theory, and neuroscience.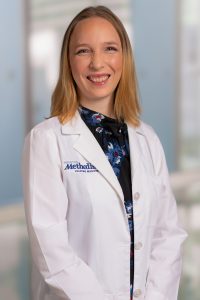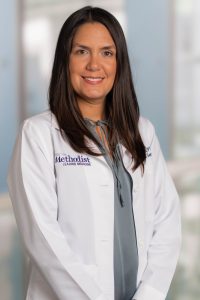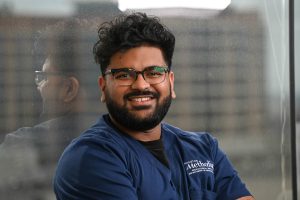 Michelle Scheffler, OTR, MOT
Senior Occupational Therapist
Michelle has been an occupational therapist since 2013 and shortly thereafter in the same year joined Houston Methodist Hospital as a staff occupational therapist. She has worked with individuals with a variety of diagnoses, including those who are medically complex and those with neurologic diagnoses and upper extremity impairments, particularly in the in-patient rehabilitation setting. Michelle has a particular interest in the psychosocial, and cognitive components of functional rehabilitation following neurologic impairments. Michelle joined the Center for Neuromodulation and Recovery in 2022 and is responsible for occupational therapy program development and oversight within the center. She is currently pursuing a PhD in Occupational Therapy at Texas Woman's University. Michelle is also a classically trained pianist, and enjoys spending time with her husband, daughter, and geriatric pug.
Catherine Martin, PT, NCS
Senior Physical Therapist
Catherine Martin PT, MS joined the Center of Neuromodulation and Recovery January of 2022 and has been with Houston Methodist Hospital since 2009.  She focused her career promoting health, wellness, and independence to those with complex neurologic and medical conditions while working at HMH In-Patient Rehabilitation Department for 10 years.   After passing her board examination to become a Neurologic Certified Specialist, she accepted a position as the physical therapy neurologic coordinator for the Acute Care Department in 2019 completing consults within the Neurology and Neuromuscular Department.  In this role she was able to continue to foster her passion of assisting individuals with progressive neurologic conditions adapt within their home environment.  When not at work, Catherine enjoys time with her husband, 2 sons, and dog camping, playing various outdoor activities, and visiting family.
Blesson Varghese
Clinical Research Specialist
Blesson grew up in the city of Philadelphia and moved to Houston after high school. He graduated from University of Houston with a Bachelors of Science in Kinesiology – Exercise Science. He joined Houston Methodist in 2019 and joined the center of Neuromodulation and Recovery as a research technician in 2021. As a clinical research specialist, he works closely with the CTM and carries out study coordinator duties.  Blesson is currently pursuing a masters in health administration and a CCRP certification. In addition, he manages his own freelance photography business – B.V.Crafted Photography. Blesson enjoys long rides on his motorcycle in his spare time and has a pet parrot named Mango. He is also very active in his church and has played music professionally for several years.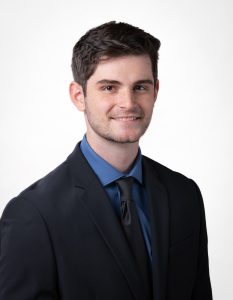 Remington Cole Crossnoe
Research Technician
Remington Cole Crossnoe graduated from Texas Christian University with a B.S. in Neuroscience. He previously worked in a research lab at TCU where he would write an honors thesis over auditory processing deficits in children with dyslexia. Remington moved to Houston to join the Dr. Sayenko Lab while he applies to medical school. In the lab he will assist in data collection and analysis. He hopes to gain experience in clinical research to become a better physician in the future. In his free time, he enjoys gardening, woodworking, listening to audiobooks, and relaxing to a movie with his wife and cat.
Jenny Dinh
Clinical Research Specialist
Jenny is one of our clinical research specialists and is responsible for subject recruitment and coordinating the research studies. She graduated from the University of Houston with a Bachelor of Science in Kinesiology. Before joining the Center for Neuromodulation and Recovery in July of 2022, she worked in multiple outpatient health care settings. Although she wanted to explore the field of research, she loved being around patients and working in a health care environment. As a clinical research specialist, she is able to challenge herself in a new field and maintain direct participant interaction.  In her free time, Jenny loves to cook, care for her houseplants, and spend time with her friends and family.
VISITING & ROTATING RESEARCHERS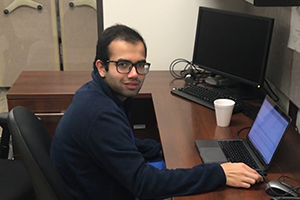 Amir Ali
Medical Student, 2019
University of Texas Medical Branch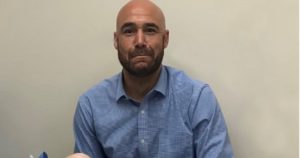 Darryn Atkinson
Visiting Scientist, 2020
University of St. Augustine
Jonathan Calvert
Visiting Scholar, 2019
Mayo Clinic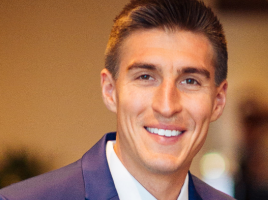 David Eguran
Graduate Student, 2019-Present
University of Houston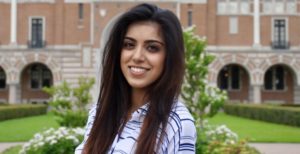 Jesnour Kaur
Undergraduate Student, 2019-Present
University of Houston
Jeremiah Ling
Medical Student, 2019
Texas A&M Health Science Center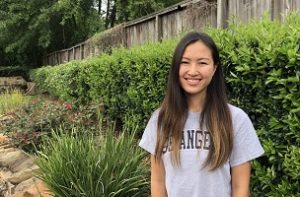 Krissy Nguyen
Undergraduate Student, 2019-Present
University of Houston
Boranai Tychhon
Volunteer, 2019-Present
Neuroepigenetics Lab